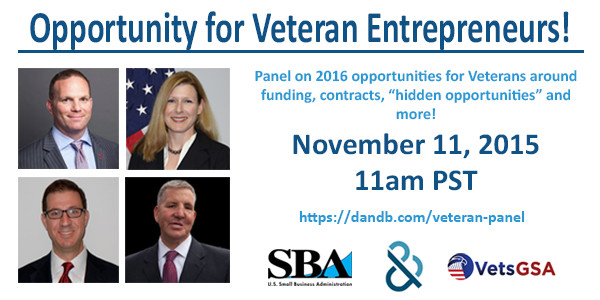 Thank you for registering for Top Opportunities for Veteran Entrepreneurs in 2016!
We're excited to provide an event like this, but we need your help to make it the best it can be. Your participation is what will make this event so valuable for veteran entrepreneurs.
Are there specific questions you want the panel to answer?
Do you know any other veteran entrepreneurs who would benefit from this panel discussion?
Do them a favor and share this event with them!
We're expecting seats to fill up fast so don't hesitate to tell your friends about this opportunity.
Top 2016 Opportunities for #Veteran Entrepreneurs: FREE Online Panel Discussion – Join! https://t.co/p8SoUGGDg8 pic.twitter.com/OVw1irqH0J

— Supplier Edge (@SupplierEdge) October 27, 2015
Interested in other events like this? Check out some of the supplier-based webinars we've done in the past. After the event, we'll be adding the podcast to iTunes for free download, so be on the lookout for a follow-up from us and be sure to share the podcast with those who weren't able to attend! See you on Veterans' Day, November 11!