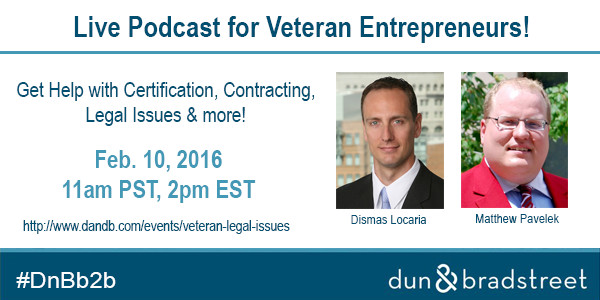 Thank you for registering for:
Veteran Entrepreneur Podcast – Help with Certification, Contracting & Legal Issues
We're excited to provide an event like this, but we need your help to make it the best it can be. Your participation is what will make this event so valuable for veteran entrepreneurs.
Are there specific questions you want the panel to answer?
Do you know any veteran business owners who would benefit from this podcast?
Do them a favor and share this event with them!
Interested in other events like this?  Check out some of the podcasts we've done in the past. After the event, we'll be adding the podcast to iTunes for free download, so be on the lookout for a follow-up from us and be sure to share the podcast with those who weren't able to attend!
Need Help Getting Loans and Contracts?
As a business owner, one of the most beneficial things you can do is monitor and build your business credit. Strong business credit can help you qualify for loans, get supplier contracts and more. Start monitoring changes to scores and ratings in your business credit file for free with CreditSignal®* from Dun & Bradstreet!