FREE D&B D-U-N-S® Number
Sign up now to:
Join D&B's business network, searched over 58 million
times a year
Capitalize on potential contracts that require
a D-U-N-S
Qualify your business to apply for SBA's America's Recovery Capital Loans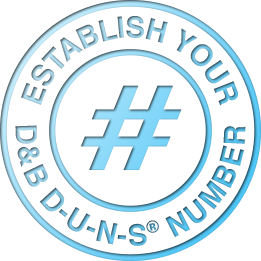 Additional Benefits
Get a D-U-N-S Number within 30 days*


Begin the process of building your business credit

*Free D-U-N-S requests could take up to 30 days.
Need More?
Need your D-U-N-S Number right away? Choose DUNSFile™ and get your D-U-N-S in 5 days or less* and establish your business credit file quickly.
Other ways to get a D&B D-U-N-S Number:
If your company is located outside of the U.S., please contact your respective D&B International Office. Are you a business required to register with the U.S. Federal government for contracts or grants? Visit D&B's government D-U-N-S site to get your FREE D&B D-U-N-S Number.