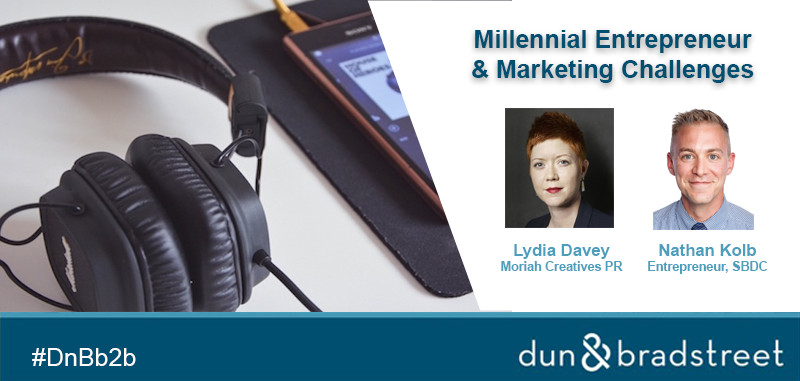 Dun & Bradstreet and
Hoover's
 hosted a live podcast on the challenges that millennials face when starting and marketing a business
Download the Podcast now!
The panel included:
Nathan Kolb: Entrepreneur & Director of the Small Business Development Center at CVCC
Lydia Davey: Founder/CEO of Moriah Creatives PR
Dustin Luther: Host, Director of Engagement at Dun & Bradstreet Hoover's
The podcast covered:
How to find funding
Resources available to entrepreneurs
Sales/Marketing approaches, and more!
You can still post questions in our SupplierEdge group on LinkedIn – Join now!
Follow @SupplierEdge on Twitter for updates on future podcasts
Nathan Kolb is the Director of the Small Business Development Center at Central Virginia Community College. He is an experienced small business owner who has been involved in the formation of 3 small businesses in the Central Virginia area. He has overseen market exploration, startup, growth, supply chain, project management, marketing, social media, public relations, sales, and management of these businesses for the past 10 years.
Lydia Davey is the CEO and Founder of Moriah Creatives PR, a San Francisco-based public relations firm that helps purpose-driven organizations and people grow strong brands.
Lydia has more than a decade of expertise in storytelling, communications strategy, and campaign management. Her entrepreneurial mindset, curiosity, and insights have been employed by Fortune 500 companies, international non-profits, and small businesses alike.
When she's not working or dedicating her spare time to veteran or humanitarian nonprofits, she can usually be found reading a good book or adventuring off the beaten path with minimal gear.